Hose Technology — always a safe connection
Hose assemblies for all applications and flow media
With the VIGOT® brand, SCHAUENBURG Industrietechnik has been providing hose solutions for all major industries such as automotive, shipbuilding, steel industry, food industry, pharmaceutical industry as well as for renewable energies for decades.
We supply original equipment, drawing-specific hose assemblies and replacement hose assemblies to our industrial customers and are a certified specialist company for hose and fitting technology as well as hydraulic hose assemblies. All production locations have an ISO 9001:2015 management system certificate.
As a partner for hose systems, we sell hose lines with nominal diameters from DN 2 to DN 300 as well as hose fittings and moulded hoses. Our products have certificates from all major inspection authorities, including DNV, BV, LR, RINA and VTH Verband Technischer Handel. Through the BG Rohstoffe und die chemische Industrie (BGRCI) we have the testing qualification for hose assemblies according to TRBS 1203!
Furthermore, we have the railroad approval for fire protection hoses and hose systems as well as the approval of the Federal Waterways and Shipping Administration for loading and fire hoses on inland waterway vessels. In the defense sector, we are approved by the BAAINBw as a hose assembly company in accordance with various VG standards.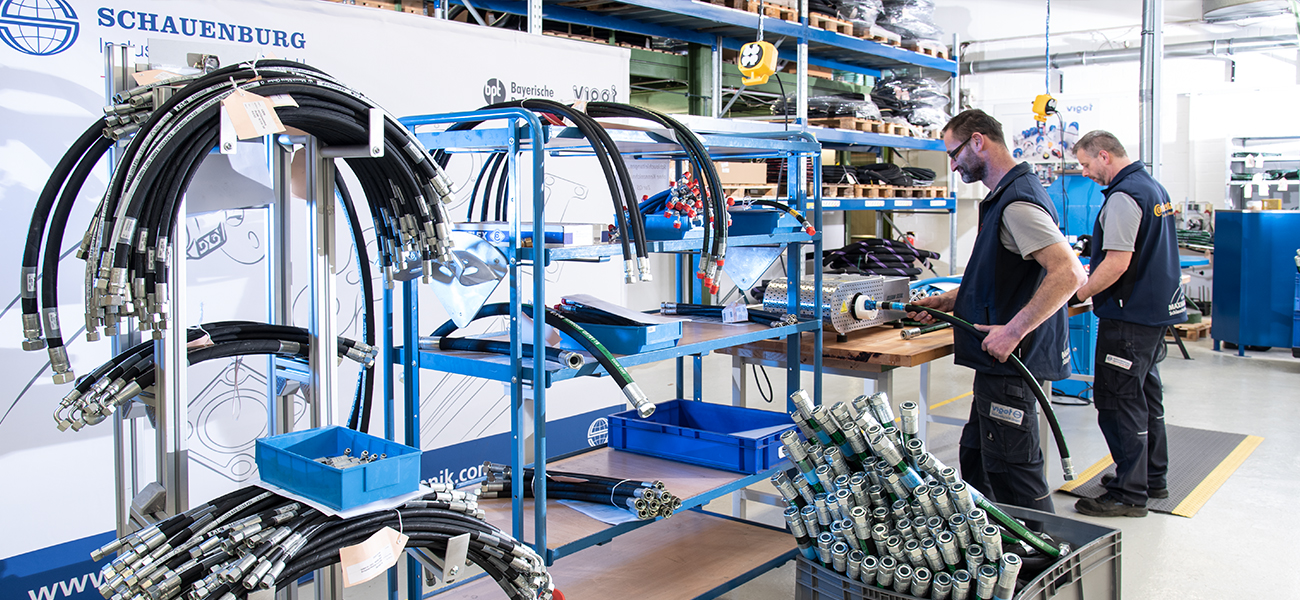 We have a long-standing partnership with Danfoss Power Solutions in the hydraulics sector. Together we support our partners and customers as a long-time specialized supplier, distributor and assembler with the brand: VIGOT® Schlauchtechnik.

Technology that convices
In our state-of-the-art production facilities, we assemble hose systems made of elastomers, thermoplastics or metal for a wide range of applications in any desired length. The fittings for these are made of steel, brass or stainless steel to match the respective hoses. For quality control, we subject the newly assembled hose assemblies to stationary leak and pressure tests at up to 4,000 bar.
Our connection methods for hose systems:
Plug connections
Clamp fittings
Reusable screw fittings
Press connections
Welded fittings on metal hoses
The combination of assembly, testing and distribution in one hand ensures a particularly high quality and reliability of all hose solutions purchased from VIGOT®.

Safety first – safety for every hose assembly
During our hose inspections by the VIGOT® Schlauchtechnik brand, we apply an individual testing procedure for each product. The fluid properties are taken into account and the basic requirements of the material as well as the current condition of each hose and fitting are checked in the tests we perform with regard to the exact guidelines.
These are the SCHAUENBURG benefits of stationary hose inspection
Standardized inspection procedures
Endoscopy
Qualified inspectors according to VTH and BG
Very high testing capacities and individual inspections on request
Inspections are possible up to 4,000 bar
Test rigs: underwater compressed air and stationary as well as mobile test rigs
Transparent and comprehensive documentation of the inspections


Moulded hoses and more for every purpose
Our moulded hoses made of various materials are used in applications such as construction machinery, agricultural machinery, air conditioning or ventilation systems. We are also able to produce special hoses according to our customers' requirements for individual applications.
In addition, our customers can use a convenient online configurator for technical hose lines, fittings and expansion joints to quickly find the right product for every requirement.