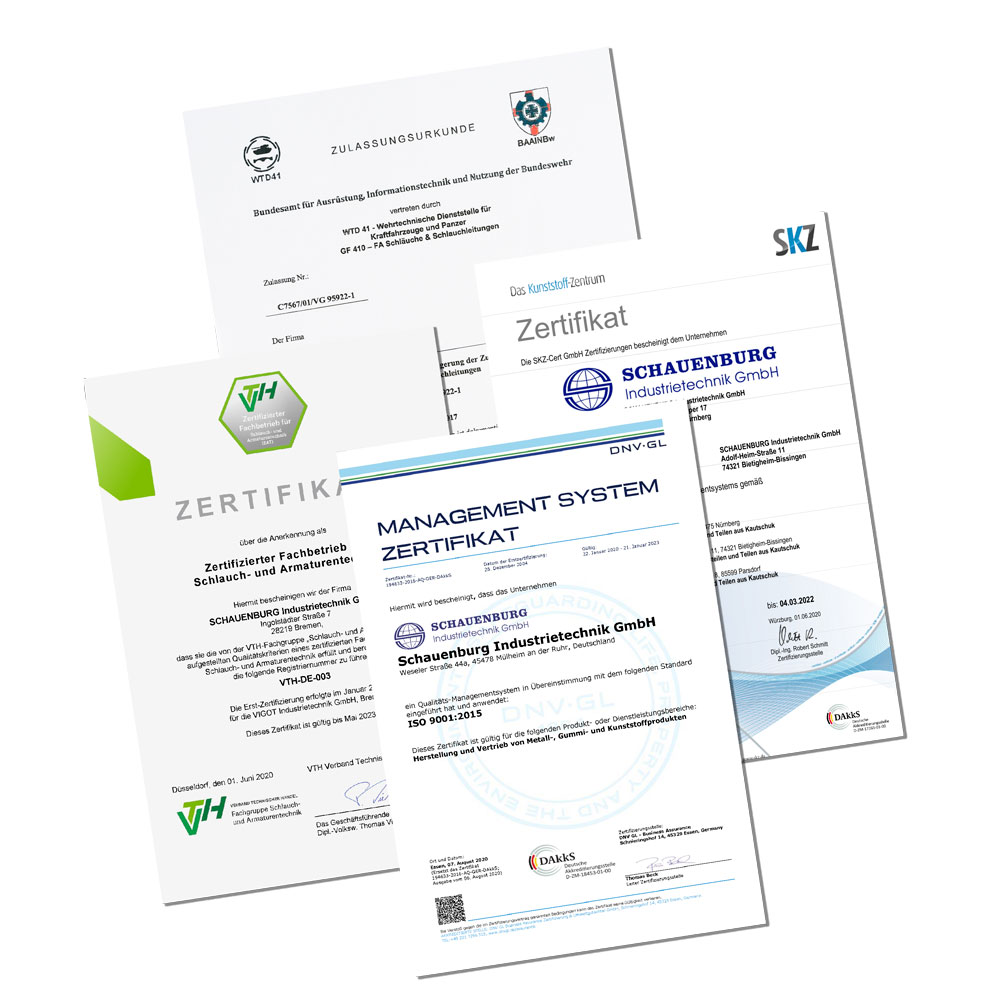 Documented quality
Our excellently trained and skilled personnel ensure the highest quality standards. The various classification societies list us as a fabricator and manufacturer. In addition, SCHAUENBURG Industrietechnik has a large number of national and international approvals, including Germanischer Lloyd, as well as general certificates, such as the qualification for testing hose assemblies.
Due to our experience and know-how, we have grown into an economically strong company over the years. Our customers benefit from this potential in many ways. Whether it is through qualified employees in the workshops, outstanding competence in engineering or comprehensive advice in processing.
Please feel free to inform yourself in detail. The listed certificates are provided with all essential information.
Certificates · Quality Management to ISO 9001:2015
• Quality Management Certificate | SKZ | HQ Nuremberg, Branch Munich and Stuttgart
• Quality Management Certificate | DNV | Branch Bochum, Bremen, Hofheim am Taunus, Mülheim a.d. Ruhr
Certificates · Environmental Management to ISO 14001:2015
• Environmental Management Certificate | SKZ
DNV and BV
• Manufacturing Survey Arrangement / Hose assembly testing and inspection MSA0000AX6
• Recognition Certificate MSARC0000AX6
• Production Surveillance Certificate / Piping System Annex III Module A2
• Approval of Manufacturer Certificate / Non-metallic hydraulic hose assemblies AMT00000G3
• Type Approval Certificate F88SC TAP0000225
• Recognition für BV Mode I Scheme (Bureau Veritas) SMS.W.I./24233/A.0
VTH Verband Technischer Handel e.V. and BGRCI
• Zertifizierter Fachbetrieb für Schlauch- und Armaturentechnik VTH-DE-H05
• Zertifizierter Fachbetrieb für Hydraulikschlauchleitungen VTH-DE-003
• Befähigung für die Prüfung von Hydraulikschlauchleitungen nach TRBS 1203 (BGRCI)
• Befähigung gem. Betriebssicherheitsverordnung für die Prüfung von Schlauchleitungen (BGRCI)
Bundesamt für Ausrüstung, Informationstechnik und Nutzung der Bundeswehr (BAAINBw)
• Bundeswehrzulassung nach VG95922-1 C7567/01/VG 95922-1
• Bundeswehrzulassung nach VG95922-2 C7567/01/VG 95922-2
• Bundeswehrzulassung nach VG95922-3 C7567/01/VG 95922-3
• Bundeswehrzulassung nach VG95922-4 C7567/01/VG 95922-4
• Bundeswehrzulassung nach VG95922-6 C7567/01/VG 95922-6
Railway Approvals
• Railroad approval for fire protection hoses F88SC and VIGOSIL according to fire protection standard DIN EN 45545-2 with requirement sets R22, R23, R24 and hazard levels HL1, HL2, HL3
• ISO 15540 in combination with VIGOT® hose assembly
• Information on request
Further Certificates
• Zulassung für Prüfung von Lade- und Löschschläuchen auf Binnenschiffen (WSV)
• Danfoss Aeroquip Schlauchleitungshersteller (EATON)
• Danfoss Authorized Distributor (Danfoss)