Plastic injection moulding

As a specialist for molded parts, we supply you with customized products based on rubber and plastic. The machinery of SCHAUENBURG Industrietechnik is technically state-of-the-art. A total of 22 machines plus two fully electric plastic injection molding machines are used in production, which produce drawing-based plastic molded parts fully automatically 24/7. Injection molding machines and CNC manufacturing equipment are designed to produce a wide variety of molded parts with high efficiency. From prototypes to large-scale production runs of millions, precision technology and the know-how of experienced specialists are used to produce high-quality and versatile molded parts quickly and reliably. The economical combination of engineering and subsequent in-house production saves time and costs. This has also proven successful in the production of C-parts for the automotive industry. In fully automated 24-hour production, 2C injection molding with insert molding technology is used. Plastic molded parts with a part weight of 1 to 200 g are produced. The clamping force covers a range from 350 to 1200 kn.
Economically and ecologically convincing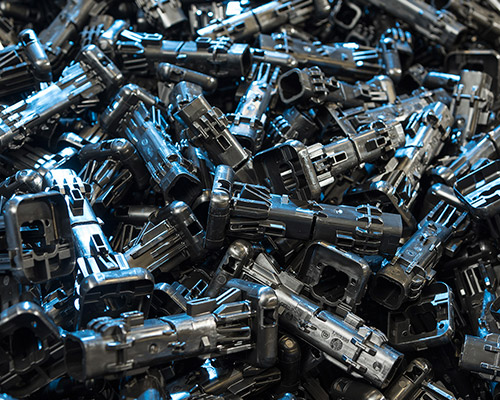 In the production of moulded plastic parts economy and ecology are inseparably linked. The new machine facilities have equipment that makes optimum use of the processed materials. Small plastic injection points and minor plastic residues (retaining residues) that are returned back into production show evidence of ecological action. Only as much residual granulate is added to the product for the material properties to meet the required quality profile absolutely. Prescribed tolerances are of course complied with 100 per cent. Optimised machine retooling times also promote the economic efficiency of the production processes. That means sustainability – right from the start.